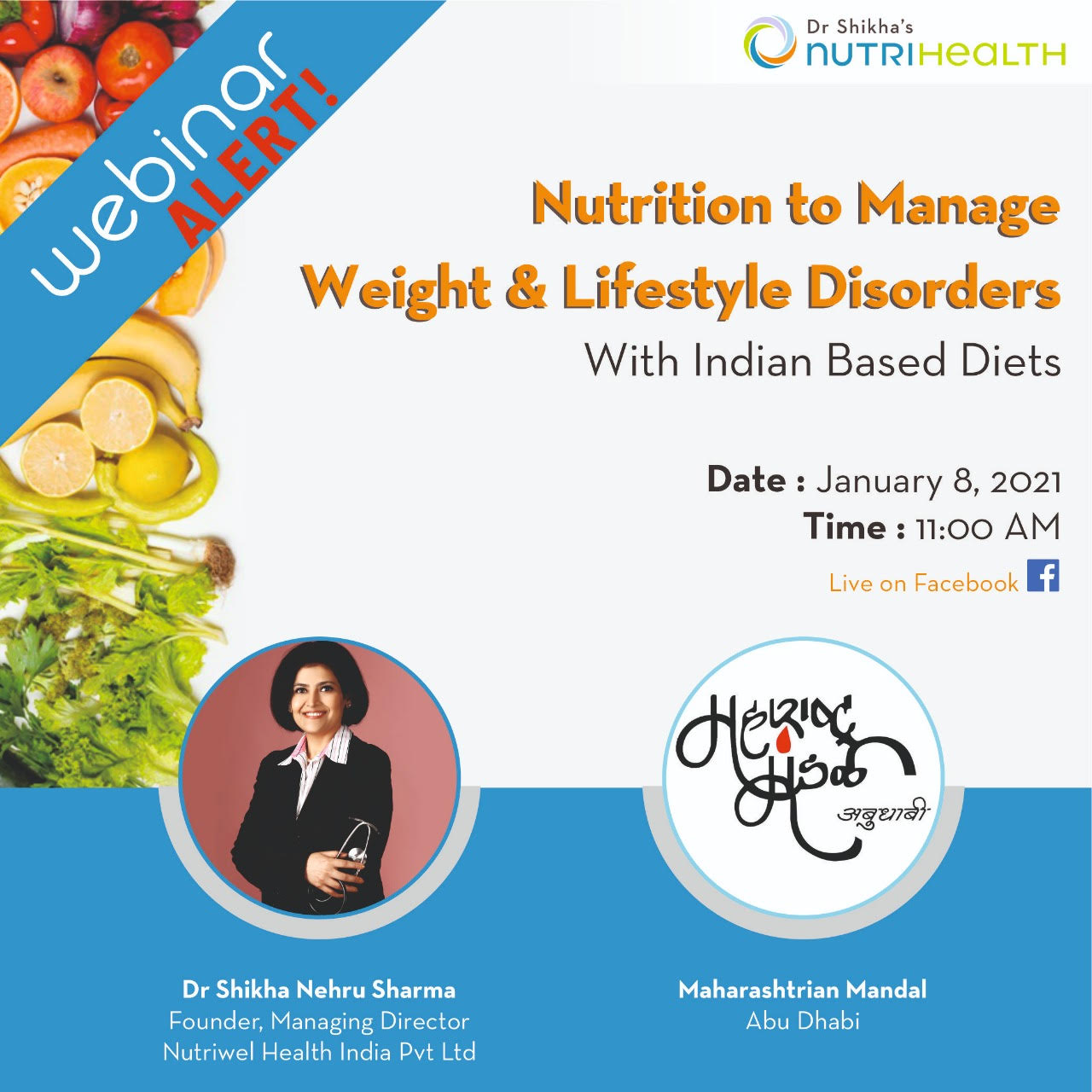 We are resuming the "MMAD Katta" event for our committee. For the first event under this umbrella, we have a webinar with Dr Shikha Sharma.
The details of the Webinar and information about the distinguished speaker is provided below. We urge everyone to take advantage of this unique opportunity and make this event a successful one.
Webinar Date:   Friday, 08 Jan 2021
Time:   11.00 am (UAE Time)
Live on MMAD FB page.   https://www.facebook.com/mmabudhabi
Topics to be discussed:   Weight and Lifestyle disorders, Kids nutrition, Immunity Strengthening with Indian based diet.
Typical topics that will be covered:
  How to lose weight without doing a lot of exercise
  What are body type-based diet? How does it work? Can we practice it at home?
  How to reduce post pregnancy weight?
  Tips for hypothyroid patients
  Can thyroid / diabetes be reversed and managed by diet.
  Women with PCOD/ PCOS generally complaint about increasing weight, acne and facial hairs. Few tips which can help in managing PCOS along    with weight.
  Tips from strengthening immunity naturally
  How to manage the nutritional requirements of kids for proper growth and development
  How will I know if I have insulin resistance? How to cope up with that?
  How to improve gut health?
  Food compatibility and wrong food combinations
  Health oils for kitchens
  Managing hypertension
At the end of the session, we will be taking Viewer's questions.
About Dr Shikha's Nutrihealth
Dr Shikha's Nutrihealth was founded in 1998 by Dr Shikha Sharma, a TEDx Speaker, a visionary doctor from Maulana Azad Medical College with a vision to educate and spread health. The organization is a pioneer in integrating modern nutrition with Vedic nutrition. It works in the area of disease prevention and wellness and serves clients across the globe.
Dr Shikha Sharma had a weekly column for 11 years in the national newspaper, HT Brunch. She was written by India Today in its article, Top 50 Young achievers of India. She was honored with prestigious awards for her service in preventive healthcare by Honourable Union Health Minister, Mr G.Azad, Women Achiever Award by FICCI, Indywood Vanitha Ratna Award, and many more.  She has been a health advisor to many hoteliers, Chief ministers, actresses, business tycoons, and one late Prime Minister among others.